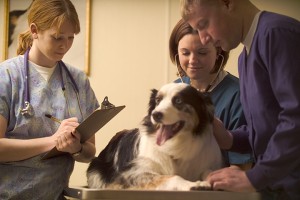 It is no secret that Americans love their pets making them a part of the family from the day the pet comes home. From pet toys to clothes, food, houses and more, the pet industry in the U.S. is booming, with Americans spending approximately 41 billion dollars a year on their pets. A large part of this amount goes toward pet healthcare.
It is not surprising to know that the U.S. Bureau of Labor Statistics predicts a faster than normal employment growth rate for veterinary technicians. Employment numbers are expected to rise by 36 percent between the years 2008 to 2018.
As an animal lover, you could play an important role in the health and well being of pets and other animals. You can choose to become a veterinary technician and be a part of one of the most in-demand professions in the country.
Vet Tech Career Requirements
There are requirements for pursuing a career as a vet tech. The preparation for becoming a qualified veterinary technician begins with choosing the right subjects in high school. A high school diploma with high scores is a positive step in the right direction. Focus on scoring high grades in math and sciences classes.
There are many vet tech schools and colleges offering associate and bachelor degrees in veterinary technology. The admission requirements vary in each institution, but there are generic requirements across the board. The first requirement is a high school diploma. Programs can be learned on-campus or through distance learning.
When choosing your vet tech school, it is recommended that you find one offering programs that are accredited by the American Veterinary Medical Association (AVMA). The AVMA accredits two year associate degree programs offered by schools and colleges in the U.S. The institution has to meet certain qualification criteria specified by the AVMA to be granted accreditation for a program.
Students with an accredited degree will find it easier to enter the job market as employers prefer veterinary technicians to have an accredited education. The emphasis on an accredited degree is mainly due to the fact that an accredited program provides a well structured program with coursework and clinical hands-on practice through internship to provide a well-rounded education to students aspiring to become veterinary technicians.
Anyone who wants to become a vet tech should be fully convinced that this is the right career path for them. The best way to find out whether you are making the right decision is to conduct research into several aspects of the veterinary technician career including education needs, duration of study, financial aspects, employment opportunities, pay scales, employment opportunities in your area, duties and responsibilities of a veterinary technician and more.
Talk to people who are employed as veterinary technicians and find out if you can shadow a vet tech around to get a good grasp of what the job actually entails. Volunteer in zoos, animal shelters and animal societies to gain some practical experience. Your acceptability ratio improves considerably for a college when you have high academic grades and practical experience employability.
The more practical experience you have the better your employability quotient will be.