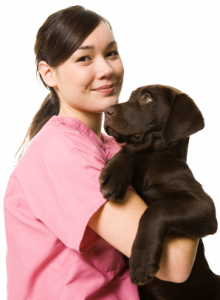 If you have a passion for animals and their well being, a challenging and exciting career as a skilled, compassionate veterinary assistant may be the perfect fit for you.
What is a Veterinary Assistant?
A veterinary assistant is trained to assist in the prevention and treatment of diseases in a variety of animals. While direct interaction with animal patients is a substantial part of an assistant's job description, the primary objective is to ensure a clean, safe, comfortable and efficient veterinary hospital environment for both staff and patients.
Under the supervision of a veterinarian or a veterinary technician, the assistant plays a number of vital roles within the animal hospital, and their primary duties frequently include the following:
Helping in the front office, including check-ins, taking payments and printing customer receipts
Escorting animals back to examination or operating rooms
Restraining animals for certain treatments, injections and other procedures when sedation is unnecessary
The administration of topical and oral medicines under supervision of the veterinarian
Educating animal owners on proper care and treatment
Collecting lab samples
Keeping the animals and hospital facilities clean
Feeding and grooming the animal patients
Helping long-term animal patients to exercise often
What Characteristics Should a Potential Veterinary Assistant Possess?
Compassion, caring, loving, reassuring: These are all words commonly associated with professionals in the field of veterinary medicine. Though a love of animals is an obvious necessity in anyone looking to pursue a profession in the field of veterinary care, there are a variety of other personality traits and values that go a long way toward achieving success in this field. For example, an individual who is known for being responsible and reliable in general will be trusted by even the most demanding of veterinary professionals to remain vigilant and to attend work promptly and as scheduled.
Neatness is also a valued characteristic, as it ensures that work areas will be clean and patient records will be tidily, accurately stored. A messy work area, whether in the front office, the examination rooms or in the operating room, will not be tolerated by any reputable veterinary professional. Cleanliness is of chief importance in every medical setting and a veterinarian's office is no exception.
The ability to properly and coolly handle stressful situations is perhaps one of the most important in the field of veterinary assistance. Though veterinary assistants do not engage in any of the doctor's medical procedures, such as surgeries, these important members of the team do often need to act quickly in the case of a medical emergency. When the veterinarian needs equipment or medicine on a moment's notice and another doctor or technician is not present, the assistant will need to jump to the task quickly and efficiently.
The job of a veterinarian assistant is intrinsically oriented around multi-tasking. The ability to prioritize in a way that benefits all customers, patients and the other veterinary professionals in the office is critical to the efficient operation of the entire facility.
Education Required for a Veterinary Assistant Career
The majority of veterinary assistant programs are concluded within a year. The new assistant ventures out into the field of veterinary medicine with a certificate that proves completion of the required training and is ready to be hired by any reputable animal hospital or private practice. In some cases, finishing training is even offered on the job in order to provide would-be assistants with more hands-on experience than they would receive in an educational setting.
The program required for veterinary assistant certification consists of theory taught in a classroom setting, applied practice in a laboratory and hands-on experience as an intern in various veterinary clinics in the area. Knowledge of basic math, excellent communications skills and the comprehension of technical literature are all required in order to achieve success in this field. Online distance training may be an option for individuals seeking a career as a veterinary assistant as well. Laboratory and required clinic experience are completed with the assistance of a local veterinarian's office.
The career outlook for veterinary assistants is highly positive. With additional training, internships and extended hands-on experience, many veterinary assistants advance to the level of veterinary technician. This position carries additional responsibilities and privileges in the office and in the hospital facilities.
Career Opportunities for Professionals in the Field of Veterinary Assistance
The training program that prepares students for a career in veterinary assistance also aids in preparing them for work in a variety of other fields. Individuals with expertise in this particular area and the training required for certification are also in demand in the following career positions:
Animal care and treatment in shelters
Maintenance of laboratory facilities treating animals
Bathing, feeding and care of certain animals in zoos and theme parks
Field work with veterinarians who visit farms, ranches and homes
Private care and treatment for certain pets in homes
Caretaker for laboratory animals
Expected Salary for Veterinary Assistants
The average salary for a veterinary assistant exceeds the typical salary of similar careers that require more schooling or training. Salary levels vary with the economy, with location, the types of responsibilities delegated and duration of employment.
Source: bls.gov
Expected Future for Veterinary Assistants
The medical profession, in general, is one of the few industries that continues to expand, despite constant fluctuations in the economy. Growing demand for all types of veterinary professionals has caused many undecided college students to switch over to the path that leads to a career in veterinary assistance. While job security is undoubtedly an issue for many people throughout the country, individuals in the field of veterinary medicine consistently find that their experience, expertise, compassion and responsibility are in high demand, regardless of location.
Pets, farm animals and animals seen in zoos and parks are all in need of high-quality, compassionate care from professionals who truly pride themselves on their work. Veterinary assistants, in their work with veterinary technicians and licensed veterinarians, help to keep the animals of the world healthy, strong and happy, which makes for a happier world in general. Find your place as a veterinary assistant with more information from the official veterinary medical board in your state.