For millions of people, the perfect career would be one that involves working with animals. While some of these people will push forward to become a veterinarian, most will not due to expense and years of education. However, for those who still want to pursue a career involving animals but without the high cost and commitment of time, a vet tech would be an exceptional consideration.
Job Responsibilities of a Vet Tech
A veterinary technician (vet tech) works directly under the supervision of a licensed veterinarian, performing an array of jobs. In addition to job responsibilities, someone in this position would have a unique opportunity to gain tremendous knowledge, which may or may not provide encouragement to advance in the field of animal care. Most people who become a vet tech prefer to work in an animal shelter, rescue center, boarding kennel, or zoo but this profession is also used for research facilities.
A vet tech is responsible for conducting various medical tests, as well as providing diagnosis and appropriate treatment according to findings. In some cases, care is the result of injury but most often, it is due to an animal living with some kind of disease or disorder. The vet tech would take blood, provide needed dental care, test samples of tissue and fecal matter, and provide ongoing support to the veterinarian in both diagnostic and laboratory testing.
For someone with just a few years of experience, job functions would also include maintaining the animal's history of health, offer nursing care, and process x-ray films. However, for the vet tech that has years of experience, as well as high education and more advanced training, job responsibilities would also include owner consultation regarding testing, diagnosis, and treatment. Additionally, the more experienced vet tech could move into specialized areas beyond care of cats and dogs. In this case, the professional could offer care to horses, cattle, monkeys, mice, fish, pigs, sheep, and so on.
Some of the other job functions a vet tech typically provides include the following:
Administer medication
Provide injections
Conduct laboratory examinations
Sterilize laboratory and surgical equipment
Vaccinate animals
Euthanize horribly injured or terminally ill pets
Conduct research on gene therapy, biomedical issues, pharmaceuticals, cloning, and other needed topics
Assist the veterinarian with surgical procedures
Work with disaster preparedness
Education and Training Requirements
To work as a professional vet tech, a specialized training program would need to be completed. Although exact requirements vary from state to state, someone just getting started in an entry level position would need an Associate's degree or Bachelor's degree in veterinary technology. It would be essential for both degrees to be earned from a college or university with an accreditation by the American Veterinary Medical Association.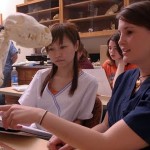 Any educational institute being considered would need to provide studies specific to veterinarian care in both a clinical and laboratory environment. Coupled with appropriate coursework, the individual would need to gain hands-on education working with live animals. Because there are only 20 or so colleges and universities in the United States that currently have a Bachelor's degree program specific to vet tech work, most people pursue an Associate's degree, followed by taking specialized training programs.
In addition to earning a degree through a standard brick and mortar institute, there are now accredited colleges and universities that provide all required studies online. While this would be an excellent option for some people, choosing the right school would be imperative. One method for gaining an edge to work as a vet tech would start in high school by taking science, math, and biology courses. Typically, the person that begins the journey while in high school finds it much easier and faster to complete studies in college.
Whether earning an Associate's degree or Bachelor's degree, anyone working as a vet tech would be required in all 50 states to pass an exam to receive credentials. With this, any hiring veterinarian, pet owner, or other employer would have confidence and proof of the individual's qualifications to perform the duties required of a vet tech. This particular test is comprised of a written and oral section, along with practical portions.
For certification, the individual would need to pass a credentialing test that falls under regulation of the State Board of Veterinary Examiners. However, prior to taking the examination, this person would need to be registered, certified, or licensed pursuant to laws within the state working. While the exact test could vary, most states use the National Veterinary Technician examination. There are other forms of certification as it applies to a vet tech career.
The first would be to conduct various forms of animal research. In this case, certification would be required through the American Association for Laboratory Animal Science. Someone interested in working as a vet tech would have a choice of three types of certification to include animal husbandry, facility management, and animal health and welfare. However, the person could not take this text unless he or she had appropriate work experience coupled with education.
Another type of vet tech certification is the Assistant Laboratory Animal Technician. This particular certification is ranked as the lowest, often pursued for someone starting in an entry level position. The second lowest vet tech certification is Laboratory Animal Technician with the highest ranked being the Laboratory Animal Technologist certification.
Potential Salary as a Vet Tech
Although actual amount of annual income would depend on several factors such as level of education, amount of specialized training, geographic location, veterinarian, type of facility, and any prior experience as a vet tech or related field, most earn between $25,000 and $35,000. However, for someone that has completed education and training specific to research, income potential would increase.
Future Opportunities
There will always be work in the field of veterinarian medicine regardless of level. In addition to family pets, need for service dogs, as well as cattle and other working animals will never go away. For that reason, future opportunities working as a vet tech are excellent. In fact, the latest predictions state the growth rate for a vet tech will be much faster than what has been seen over the past 10 to 20 years.
Someone interested in a career such as this has incredible opportunity for job security but also advancement. Current demand for qualified and caring vet techs is high and expected to become even greater. Along with caring for personal pets and ranch animals, experts believe work in aquariums and zoos will also see significant growth. Working in a special environment would also add to the excitement and reward of the job, as well as increase earning potential.